European Forum for Advanced Practices (EFAP)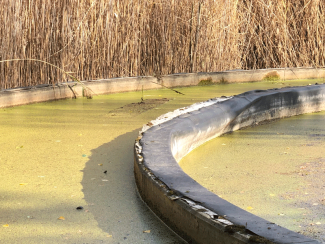 The European Forum for Advanced Practices (EFAP) is an open and inclusive research network originating from universities, NGOs and community-based organisations, independent research entities, museums, and a wide range of arts academies. EFAP's broad goal is to establish a dialog across the boundaries that often separate these contexts and to promote exchange with a focus on emergent forms of artistic- and practice-based research.
EFAP proposes an open notion of Advanced Practices that deliberately combine methods and practices from numerous disciplines. The goal of EFAP is to respond to two sets of urgencies:
Ever-more complex societal challenges across Europe demand new forms of knowledge exchange and transfer, as new research forms gain ground and new modes of research output become increasingly prominent.

This requires multidisciplinary and comprehensive methods to capture and assess their quality and impact in advance rather than retrospectively.
The initial proposers of EFAP have actively shaped contemporary research in the fields of visual art, art history, philosophy, music, theatre, dance and performance studies, architecture, design, and engineering.
EFAP's mission is to broaden and deepen the range of settings, forms, and fields that can be identified or understood in terms of Advanced Practices.
To ensure the involvement and active participation of both emergent and relevant stakeholders is crucial for a successful development of EFAP.
The plan consists of a systematic expansion of the network according to the following steps:
Open call and request for comments to the first draft of the White Paper on Advanced Practices: Distributing a first draft as well as the MOU among institutions of higher art education, practice-based research programs, regional institutional networks, and academic associations
initiating a transparent process that documents the challenge, the main objectives, and the working group structure on a website that is regularly updated and provides information about the progress of the project and its constitutive elements;
expanding the network from arts and practice-based institutional initiatives in the Arts and in the Humanities towards interested parties in neighbouring but so far institutionally disconnected fields, most importantly: social sciences, information technology, engineering, health, etc.;
integrating the specific interests and backgrounds of public and private institutions in the fields of art, culture, and technology;
contacting stakeholders in the private sector, such as private foundations, private research centres, corporate residency programs, initiatives for technology transfer and inviting them to join the process; and
consulting governmental and transnational organisations.
The challenge of connecting established and emerging stakeholders will require the support of existing dissemination platforms as well as the creation of new mechanisms for promoting EFAP's various findings and outcomes.
EFAP will involve a wide range of disseminators (e.g., journals, publishers, libraries, archives, and online networks and platforms) at the earliest possible opportunity. Initially, EFAP sees their role as twofold, both aspects of which are strongly aligned with these institutions' own missions:
as pivotal resources in and for ongoing research processes, often with a deep knowledge of the history and landscape of Advanced Practices; and
as crucial stakeholders in disseminating provisional results of EFAP's activities (mainly through its working groups).
Alignment of missions is a core principle in EFAP's approach. More specifically, EFAP's dissemination plan has two basic elements. Both will be presented as 'works in progress' over the course of the entire project, in large part as a strategy for eliciting ongoing feedback and involvement.
White Paper on Advanced Practices

EFAP's first work product will be a 'white paper.' A white paper process provides a flexible mechanism for tracking, discussing, and developing principles and issues that highlight how research practices advance. All of EFAP's Working Groups (see below, Section 3) will contribute to the White Paper based on a first draft that will be distributed after the launch of the networking process. Its status will remain provisional throughout the duration of the EFAP process, that is, subject to ongoing development, updates, and editing. EFAP's Core Group (CG) will organise this process, and the Management Committee will supervise it (e.g., to ensure that relevant issues are highlighted for specific WGs and around particular issues).
The goal of this white paper process is to launch EFAP's networking activities and bring together diverse views from the working groups without imposing a premature need for broad consensus. This approach balances two conflicting demands: on the one hand, the need to collect diverse descriptive approaches, perspectives, and resources from peers working across and between disciplinary, institutional, and cultural contexts; on the other, to publish them in a form that is both timely and widely useful to others not directly included in this proposal and the early-stage networking process.
New Vocabularies of Advanced Practices

Advanced Practices, in general and in the specific, frequently confront the limitations of existing terminologies for contextualising, describing, and evaluating projects and outcomes. The impact of these limitations affects Advanced Practices from cradle to grave: they materially shape — often in negative ways — who is seen as a potential stakeholder, how projects are placed institutionally, whether and how they are funded, and where and how their outcomes are disseminated and evaluated.
One of EFAP's working groups (WG2) is charged with researching, developing, and proposing a 'lexicon' of new vocabularies that will enable stakeholders working within and across related fields to both describe these projects and to evaluate, assess, and measure their contributions. However, EFAP believes that jump-starting this articulation of new vocabularies will be critical to launching the larger EFAP process in three basic ways. It will:
promote EFAP and the notion of Advanced Practices;
provide a basis for outreach to actors outside the initial EFAP process; and
seed EFAP's other four WGs' activities.